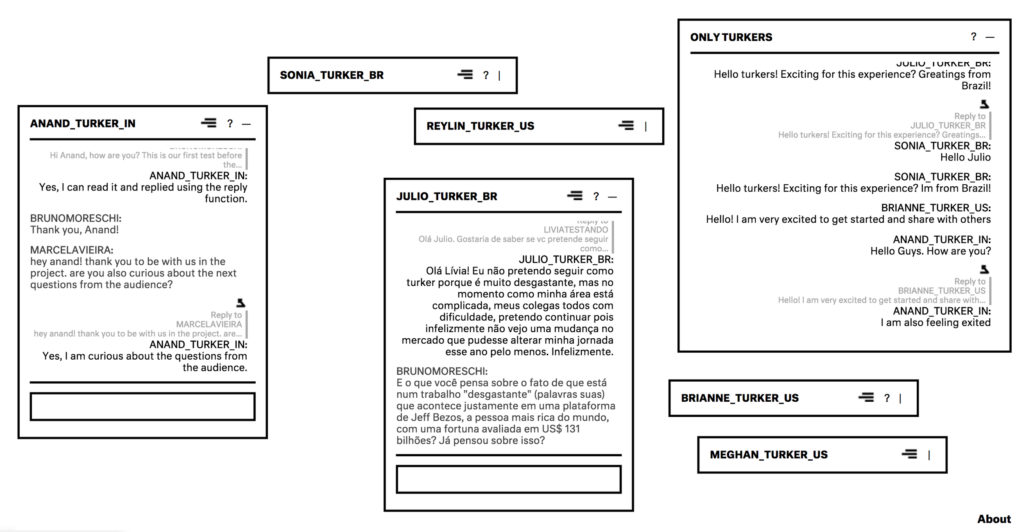 In a partnership with the online art platform aarea, GAIA participated in this project that highlights the role of humans in Artificial Intelligence and their working conditions. Although often presented as automatic and autonomous, AI depends on the work of many humans.
For this, we created an interactive website (that was hosted for 20 days in the aarea domain, and now is in a static way) where it was possible to chat with some of the people who perform Human Intelligence Tasks (HITs), small tasks used to train AI systems. This work is marked by a logic of null belonging to what is being built and by very low remuneration – characteristics that the project discussed with these workers, as well as speculating possible new ways to carry out these activities. A digital and print publication will be held until the second half of 2020, with the co-editing of the five turkers invited to the project.
Participants: Bruno Moreschi, Bernardo Fontes, Guilherme Falcão, Gabriel Pereira, Amanda Jurno, Rafael Tsuha, Livia Benedetti, Marcela Vieira, Adriano Ferrari and Luciano Ratamero.