30/03/2022
Imprimir
SIS 2022 – Advances in Science, Technology and Social and Environmental Management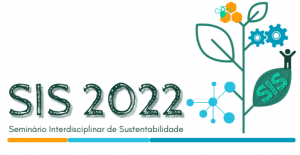 PPgSus will hold, on June 30th and July 1st, the SIS 2022 – Interdisciplinary Sustainability Seminar (the event will be online).

We invite and encourage students and program advisors to submit papers.

Submission deadline: March 28 to May 2

Complete works and expanded abstracts by PPgSus and undergraduate students will be accepted, always having the supervisor as a co-author.

We count on the collaboration of everyone participating in the activities and publicizing the lecture and the round table with external guests.

Schedule:

– June 30

9:00 am to 11:30 am – Opening Lecture: Environmental Research, Public Policies and Governance, with

Eduardo Trani (Subsecretary of Environment of the Secretariat of Infrastructure and Environment of the State of São Paulo) and mediation by Prof. Dr. Paulo Almeida (PPgSus).

2:00 pm to 4:00 pm – Round Table: Climate and Social and Environmental Justice, with Andréia Coutinho Louback (Humphrey Fellowship, University Of California, Davis), Carmen Araujo (ICCT – International Council on Clean Transportation) and mediation by Prof. Dr. Evandro Mateus Moretto (PPgSus).

– July 01

9 am to 12 pm – Conversation on Science, with Jonathan Fernandes Torres de Souza (Master at PPgSus), Marília C. Campos Garcia (Master and Doctor at PPgSus), Silvia Mandai (Master at PPgSus), Vitor Cano (Master and Doctor at PPgSus) and mediation by Prof. Dr. Alexandre Igari (PPgSus) and Post-Doctoral Student Silvia Stuchi Cruz (PPgSus).

For more information, visit the event website.