Gabrielli Duarte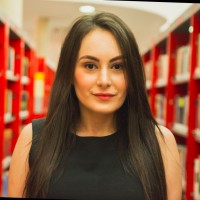 Lattes

International Projects

1) São Francisco Mine – A case history – Mitacs Summer Internship – Carleton University, Canada (2018).

Domestic Projects

1) Pharmacogovernance and Criminal Compliance. (University of São Paulo, 2019-current). Coord. Eduardo Saad-Diniz.

2) A judiciary for the victims? Studies on legitimation of the Criminal Justice System. (University of São Paulo, 2016-2017). Coord. Eduardo Saad-Diniz.

3) Legitimation of the Moral of the Prince in the actions necessary for the maintenance of the Government: between fortune and virtù. (University of São Paulo, 2017-2018). Coord. Eduardo Saad-Diniz.

Publications

1) Saad-Diniz, E. Duarte, G. (2019). Crime Corporativo na Indústria Farmacêutica: lições de John Braithwaite [Corporate crime in the pharmaceutical industry: lessons from John Braithwaite. Revista De Derecho Penal Y Criminología. Thompson Reuters, La Ley. Argentina.

2) Duarte, G. (2019). Governança e Compliance na Indústria Farmacêutica: Análise da Corrupção Institucional [Governance And Compliance In The Pharmaceutical Industry: Analysis Of Institutional Corruption]. 27th USP International Symposium on Scientific and Technological Initiation. USP, Ribeirão Preto, Brazil.

3) Duarte, G. (2018). Vitimização Primária dos CEOs: Análise das implicações da responsabilidade pessoal nos casos Enron e Worldcom[Primary Victimization of CEOs: Analysis of Implications of Personal Accountability Through Case Study Enron and Worldcom]. In Saad-Diniz & Laurentiz (2018). Corruption, Human Rights and Business. D'Plácido: São Paulo, Brazil.

4) Duarte, G. (2017). Criminalização da imagem dos adolescentes da periferia: uma análise com base nos resultados do projeto Éticas para Crianças e Adolescentes [Criminalization of the image of adolescents from the periphery: an analysis based on the results of the project Ethics for Children and Adolescents at the Ribeirão Preto Law School. V State Law Seminar. Unesp, Franca, Brazil

5) Duarte, G. (2016). Shopping Centers: A Nova Face do Controle Social [Malls: The New Face of Social Control]. Brazilian Institute of Criminal Science: São Paulo, Brazil.

6) Duarte, G. (2016). Vitimização secundária da mulher nas decisões judiciais: análise da ADC nº 19 e ADI nº 4.424 sobre a Lei Maria da Penha [Secondary Victimization of Women in the Reasoning of Judicial Decisions: Analysis of ADC nº19 and ADI nº 4.424 About the Maria da Penha Law]. Law Seminar. University of São Paulo, Brazil.

7) Duarte, G. (2016). Aprendizagem cognitiva no projeto ético para crianças e adolescentes na educação pública [Cognitive Learning In The Ethical Project For Children And Adolescents In Public Education]. 6th Meeting of Empirical Research in Law. REED, Porto Alegre, Brazil.

Other Publications

1) 23º Poeta de Gaveta, Pró-reitoria de Cultura e Extensão Universitária Prefeitura do Campus de Ribeirão Preto.