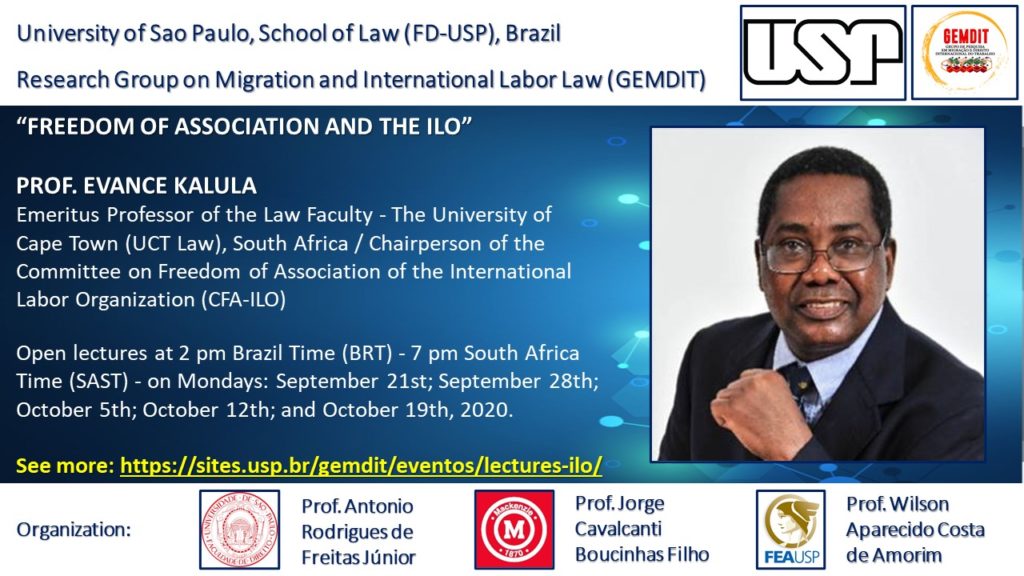 The perception of the International Labor Organization (ILO) regarding freedom of association in the current context, marked by deep changes in the world of work – especially in times of the Covid-19 pandemic –, continues shedding light on complex issues. The ILO celebrated in 2019 its 100th anniversary with a Declaration on the future of work, in which it reaffirms that work must be centered on human beings, and therefore is not a mere "commodity." Among the points highlighted in the Declaration is the freedom of association, which must be valued to promote workers' rights and, thus, sustainable and inclusive economic growth. Nonetheless, the ILO recognizes in the same Declaration that there are major changes in the world of work, caused by demographic issues, technological innovations, globalization, climate change, etc. These transformations led, for example, to the so-called "platform work" – an on-demand type of work intermediated by digital applications, involving drivers in Uber, Lyft, and 99, deliverers in Instacart, iFood, and Rappi, among others – and to the "zero-hour contract" – highly questionable in the United Kingdom, through which the worker does not have a defined period of work, but performs activities according to the demand set by his/her employer.
In a nutshell, we may point out four elements calling our attention to labor issues: (i) the ILO Centenary, which alone stimulates debates in the societies – in general – and in the legal and business communities – in particular – regarding the future of work; (ii) the worldwide adoption – by both service providers and consumers – to applications that intermediate work, which is an unavoidable reality nowadays; (iii) the recent labor reforms in the world, like the 2017 Labor Reform in Brazil, which profoundly changed the foundations of its Labor Law, providing for the "intermittent employment contract" – very similar to the "zero-hour contract" – and the elimination of the mandatory payments to the trade unions – which has been generating enormous impacts on their funding –; and (iv) the recent economic, political and social crises – exacerbated by the Covid-19 pandemic – in Brazil and other countries, generating intense debates on the type of development that the countries should adopt. Regarding each one of these agendas, the trade unions and the environment of social dialogue should play a central role under the ILO Doctrine.
Aiming to bring sophisticated reflections about the current moment, we have the great honor to count on Prof. Evance Kalula, Emeritus Professor of the University of Cape Town, Law Faculty (UCT Law), South Africa, and Chairperson of the ILO Committee on Freedom of Association (CFA). He will provide us with five open lectures at 2 pm Brazil Time (BRT) – 7 pm South Africa Time (SAST) – on Mondays: September 21st; September 28th; October 5th; October 12th; and October 19th, 2020.
Prof. Kalula is in a unique position to express both relevant data and opinions about work relations worldwide, especially regarding trade unions, freedom of association, and collective bargaining. He shall offer us not only theoretical approaches to these issues. These lectures will be delivered in the Graduate course "The Freedom of Association and the International Labor Organization" (available in Portuguese and English at https://uspdigital.usp.br/janus/componente/disciplinasOferecidasInicial.jsf?action=3&sgldis=DTB5862 or in English via this pdf) of the University of Sao Paulo, School of Law (FD-USP), which is offered from August to December 2020, by Prof. Antonio Rodrigues de Freitas Júnior.
The lectures are designed for a widely diverse audience, such as Undergraduate, Specialization, Master's and Doctorate students, Postdoctoral researchers, professors, lawyers, judges, public prosecutors, trade unionists, Human Rights activists, entrepreneurs, business executives, Human Resources managers, etc. – from Brazil and abroad –, and will be made available as open lectures on this streaming link: https://stream.meet.google.com/stream/04b5677c-958c-45e2-ae12-4012b9e332ba. 
To request your registration for the private Google Meet room and to make comments and questions about the contents of the lectures – as we will have time to questions and answers (Q&A) -, please send messages to the public WhatsApp group: https://chat.whatsapp.com/HUKpjsxtB946DdOMQop3A7.
---
ORGANIZING COMMITTEE
Prof. Antonio Rodrigues de Freitas Júnior – University of Sao Paulo, School of Law (FD-USP);
Prof. Jorge Cavalcanti Boucinhas Filho – Mackenzie Presbyterian University, School of Law (FD-UPM);
Prof. Wilson Aparecido Costa de Amorim – University of Sao Paulo, School of Economics, Business and Accounting (FEA-USP).